Dr. Eugenia Curet holds a Master Degree in Social Work with a specialization in psychiatric social work from New York University Graduate School of Social Work; a Ph.D. in Interdisciplinary Studies focusing on Public Health and Substance Abuse from The Union Institute and University, Cincinnati, Ohio, and pursued studies towards a DSW in social work at the Adelphi University in New York (ABD).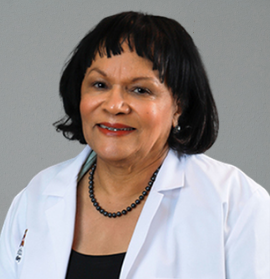 She is a licensed clinical social worker with experience in providing psychotherapy to medical students, medical residents, academic and medical practitioners, and university employees experiencing depression, anxiety, and stress-related symptoms.  She was an Assistant Professor of Psychiatry at the University of Texas Rio Grande Valley, School of Medicine (UTRGV, SOM) until May 2021.  She was also Assistant Dean in charge of providing counseling and wellness services to the UTRGV-SOM medical students.
Her work experience includes training on suicide prevention for college students and faculty, medical students, and medical residents.  She was also the administrative director of the Vincent P. Dole Research and Treatment Center for Opioid Addiction of Weill Cornell Medical College (WCMC) and Instructor in Public Health for 16 years. She has published and has been a presenter at numerous national and international conferences on subjects ranging from mental health and minority populations, suicide prevention, substance abuse, and HIV prevention.
She is bilingual (English and Spanish) and bicultural.